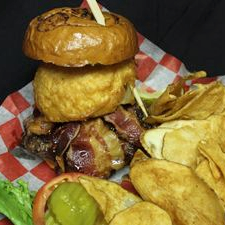 Beckett's Burger Bar has consistently been recognized as the best place to get a burger in Bowling Green, Ohio.
Our burgers are a half pound of hand-pattied ground chuck cooked to perfection.
Beckett's burgers come on your choice of a brioche roll or a fresh baked pretzel bun. We have twelve specialty burger options that make our customers agonize over having to pick just one.
The three burgers that we always recommend are the Western, the Falcon, and the Macaroni and Cheese burger.
Our Western burger is ground chuck topped with BBQ sauce, cheddar cheese, bacon and onion rings.
The Falcon burger is far from your ordinary bacon cheese burger. It comes as a ground chuck patty with four flavors of cheese including cheddar, American, Swiss and provolone and four pieces of thick cut hickory bacon.
The Macaroni and Cheese burger is ground chuck topped with our signature queso and cheddar macaroni and cheese. It is a gooey flavor filled creation that usually requires a fork and knife to eat.
Beckett's Burger Bar has burgers for all appetites. All our burgers start at ½ lb, but if you don't think that is enough to keep your stomach from wanting more, we suggest you order double! When the double comes out, most customers want to take a picture of it and post it to social media to prove they took on a 1 lb stacked burger.
Best of BG Award As Voted by the Students