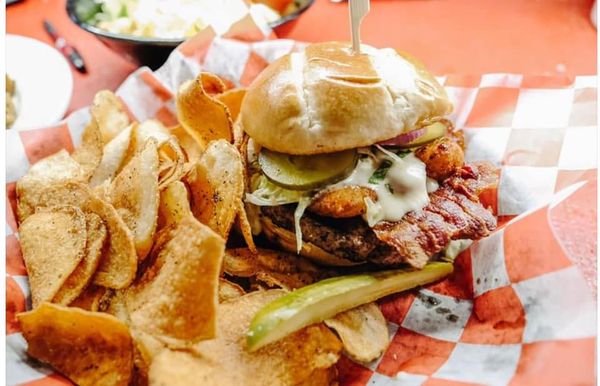 Beckett's Burger Bar's highly acclaimed and award-winning burgers are what has made it a staple within Downtown Bowling Green – they simply serve the best hamburgers in town.
Picture this – a ½ pound of ground chuck, hand-pattied and grilled to perfection, then brought to your table hot, fresh and juicy with your choice of our many cheese and vegetable topping options. Each Beckett's burger comes on your choice of savory signature brioche bun, or our delightful freshly baked pretzel bun. We offer a whopping fifteen specialty burgers in addition to a build-your own option. Whatever you choose, we guarantee – you've never had a burger like this.
Our succulent burgers start with a ½ pound patty, but if you're feeling extra hungry, don't worry – we've got you covered. Order a double patty for one whole pound of fresh, mouth-watering ground chuck that will leave you speechless. Make sure to grab your phone and snap a picture of the mammoth one-pounder if you dare – bragging rights are always up for grabs at Beckett's!
Our most popular and highest recommended burgers are the Western, the Falcon and the Mac & Cheese. Though all our burgers are incredible, these are the ones that customers keep coming back for most.
The Western burger is our ½ pound ground chuck patty topped with rich and savory BBQ sauce, cheddar cheese and a freshly fried onion ring.
You'd be hard-pressed to find anything better than The Falcon if you're looking for an absolute knockout bacon cheeseburger. Our ½ pound ground chuck patty is topped with four layers of cheese; including cheddar, American, Swiss and mozzarella. If that's not enough for you, four pieces of tender thick-cut hickory bacon send this burger over the top.
The Mac & Cheese features our ½ pound ground chuck patty topped with our signature queso and cheddar macaroni and cheese. This gooey, flavor-filled beast of a burger normally requires a knife and fork to fully conquer.